Martial Arts Classes in Largo, Florida!
Martial Arts Classes for YOUR Fitness Journey
Martial Arts will take you on a long, fulfilling journey that continues for the rest of your life. Whatever your motivation to begin training, we've got the classes and personal attention to make your goals a reality:
Traditional Okinawan Style Karate

Jujutsu for Self Defense

Judo Classes

Mixed Martial Arts
Kids Martial Arts Classes

Bootcamp Fitness Classes

Womens' Self Defense Training

Personal Training and Private Lessons
Whatever your reasons, starting the journey can be both challenging and intimidating.  Membership at The Dojo gives you a variety of classes and training options to realize your goals while meeting the needs of your busy schedule.
Martial Arts Sensei – Ryan Dean
Martial Arts classes at the Dojo are taught by Master Ryan Dean, a 8th degree black belt.  He is one of the highest ranked Uechi-Ryu Karate practitioners in the United States.  Additionally, he has studied Jujutsu and Judo for over 20 years and is continually working to improve his techniques and teaching methods.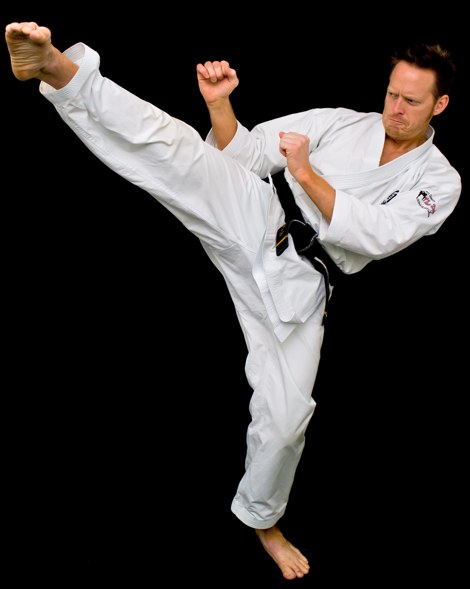 "When I started martial arts training as a teenager, I wanted to learn how to fight and be a"tough guy". However, what I learned from over 25 years of martial arts training is that being the best fighter pales in comparison to everything else I have gained from my training.
As a young, cocky teenager I had a short fuse and a lot to learn. I was lucky to have some true karate masters to serve as my role models. The skill of their techniques was and still is amazing,  yet they carry themselves without a drop of arrogance.
My teachers taught me that having the ability to hurt someone carries with it a great responsibility never to be misused. Self defense should only be used as a last resort when there are no other options. I personally had to work on my own self-control and how to use my skills to help others.
Martial Arts have taught me how to think before I act, pay attention to detail, and finish what I start. I strongly urge parents to explore martial arts training for their children!"
Ready to Begin Martial Arts Training?
Prospective students sometimes think they need to get into better shape before beginning Bootcamp Fitness or Martial Arts Classes. Don't put your goals on hold for later! Our school is a family environment where you will be encouraged, not judged.
Our students have all different abilities and help each other realize the shared goals of self-improvement and empowerment. Come experience firsthand the benefits of our Martial Arts and JudokaFit Fitness classes. You and your family are invited to visit our school today as welcome guests.